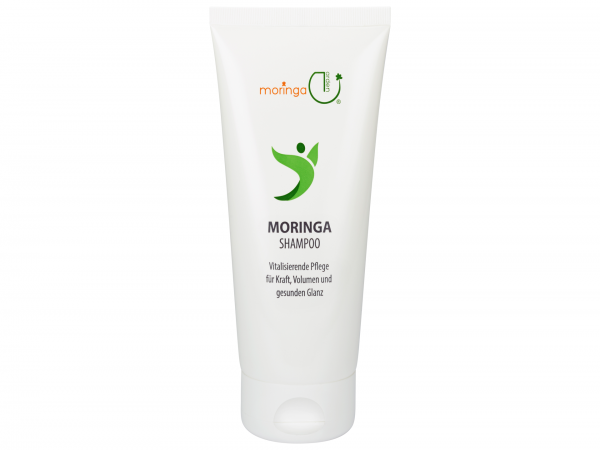 7,00 € *
12,00 € *
(41,67% gespart)
Inhalt:
200 Milliliter (3,50 € * / 100 Milliliter)
inkl. MwSt. zzgl. Versandkosten
Moringa Shampoo normales Haar Moringa für natürliche Haarpflege Das milde...
mehr
Produktinformationen "MoringaGarden´s Shampoo"
Moringa Shampoo normales Haar
Moringa für natürliche Haarpflege
Das milde Pflegeshampoo für jeden Tag mit ausgleichenden Pflegeproteinen, Moringa - Blattextrakt, Calendula und Aloe Vera. Es reinigt besonders sanft und verleiht ihrem Haar tagtäglich gesunden Glanz und Vitalität bei optimaler Frisierbarkeit.
Inhaltsstoffe INCI:aqua, sodium laureth sulfate, parfum, sodium cocoamphoacetate, inulin, glycerin, lauryl glucoside, moringa oleifera leaf extract, olea europaea extract, maris sal, sodium cocoyl glutamate, sodium lauryl glucose carboxylate, glyceryl caprylate, polyglyceryl-10 laurate, butylene glycol, citric acid, alpha isomethyl ionone, benzyl salicylate, coumarin, limonene, linalool, alcohol
Anwendungsempfehlung: Shampoo sanft in das Haar einmassieren, kurz einwirken lassen und mit lauwarmen Wasser gut ausspülen.
200 ml
ACHTUNG SPANISCH ETIKET
Weiterführende Links zu "MoringaGarden´s Shampoo"
Bewertungen lesen, schreiben und diskutieren...
mehr
Kundenbewertungen für "MoringaGarden´s Shampoo"
Von:
Hagenhofer Robert
Am:
07.05.2018
Sehr gut !
Das Shampoo ist gut - kein Jukreiz mehr - beruhigt die Kopfhaut - kann ich nur empfehlen
Von:
Jiri Fiala
Am:
22.02.2018
super
Volles Haar, angenehmer Duft, einfach Klasse!
Von:
Ursula Steinicke
Am:
24.12.2017
sehr gut
Ich habe das Shampoo schon mehrere Male gekauft und bin sehr zufrieden mit dem Produkt.
Von:
alice
Am:
04.09.2017
Fantastic
Very funny situation: a friend of us, on a visit, used our Moringa Shampoo (it was in the bathroom, so she felt at ease using it) and phoned us few days after to get the reference! She had never experienced such a great result with any shampoo. It was very spontaneous, because we had had no conversation about Moringa products whatsoever...
And for us, there is no other shampoo for more than a year now.
Von:
Carola Schmitt
Am:
17.07.2017
Begeistert
Die Haare glänzen, bekommen Fülle und Halt. Bin begeistert. Preis/Leistung perfekt
Von:
Alois Höfl
Am:
19.06.2017
Spitze
Das Shampoo ist echt Spitze
Von:
Ursula Steinicke
Am:
26.05.2017
Ich habe den Eindruck, dass die Haare fester werden und sich gut frisieren lassen. Werde es wieder kaufen.
Sehr gutes Produkt, angenehm in der Anwendung
Von:
Miriam Filupeit
Am:
26.02.2017
Super Produkt
Das Shampoo ist mein Favorit, die Haare werden zauberschön, bekommen Fülle und Glanz!
Von:
Barbara Guzmán
Am:
08.02.2015
Enttäuscht
Liebe Moringianer, ich vermisse das alte Moringashampoo mit dem Rosenduft. Es war deutlich ergiebiger als das neue und der Duft hat mir auch viel besser gefallen.
Herzliche Grüße
Barbara Guzmán
Bewertung schreiben
Bewertungen werden nach Überprüfung freigeschaltet.